Meet the Greenbergs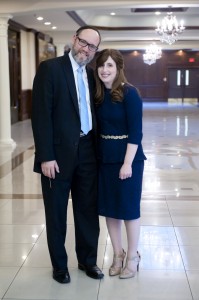 Rabbi Aaron Greenberg was born and raised in Toronto, Canada. After graduating from Yeshivat Or Chaim ('93), he spent a year and a half studying in Yeshivat Shilo. Upon completion of his degree in Psychology and Religious Studies from York University, Aaron returned to Israel to study at Yeshivat Har Etzion in the Gush. Upon returning to Canada, Aaron returned to his alma mater as a rebbe for 10 years, teaching, writing curriculum for a wide variety of courses both at Or Chaim and at Ulpana.
Rabbi Greenberg received his rabbinic ordination from Harav Hagaon Gavriel Zinner, the Nitei Gavriel, of Brooklyn, New York. Aaron completed his Master's degree in Jewish School Administration and Education from Yeshiva University's Azrieli School of Education. In addition to his Master's degree, Aaron also completed certification to be a principal through both the Board of Jewish Education and York University. Aaron is very involved in his local synagogue (BAYT) and actively assuming various roles both formally and informally at the Shul, including running the OU-JLIC/ BAYT young adult minyan. Besides the various ad hoc committees he regularly participates on, Aaron also sits on the Vaad HaChinuch of Yeshivat Eitz Chaim and is part of the COR executive committee.
In 1997 Aaron was approached by Hillel of Greater Toronto to create a revolutionary program on campus at York University known as the "Turk Family Beit Midrash." After a short period of time, and in order to meet the demands of students, this position blossomed into a fulltime position under the auspices of the Orthodox Union, as part of the Jewish Learning Initiative on Campus – OU-JLIC.  Aaron now serves as its Canadian director and oversees the recent expansions to Guelph and McGill. OU-JLIC partners with the local Hillel and sends rabbinic couples to engage and inspire Jewish students. Currently, they are on 16 such couples across the United States and Canada. Both Aaron, and his eishet chayil Miriam, who also works part time for OU-JLIC, host numerous students for Shabbat and Yom Tov meals, serving together as a catalyst for a plethora of activities for young men and women across our city. Since September of 2008 Aaron has also been teaching a grade 12 Ethics course at Tannenbaum CHAT Kimmel campus.
Miriam Greenberg, like her husband, was born and raised in Toronto. After graduating from Ulpanat Orot girls school ('93), Miriam studied at Midreshet Moriah in Jerusalem for a year. Upon her return, she completed a B.Ed. in Jewish Education as well as a B.A. in Psychology at (you guessed it!) York University. Miriam completed her Master's of Education in Special Education at the Ontario Institute for Studies in Education at the University of Toronto. After teaching for a few years in the Jewish day school system, Miriam became a Special Education teacher at Eitz Chaim, and enjoys the rewarding relationships she forges with her students.
Aaron and Miriam are blessed with four children: Tzvi, Nediva, Ezra, and Yair.